Walther H&K MP5 SD .22 LR
The Walther H&K MP5 SD rifle looks, feel,and operation was to my highest satisfactions. This is a replica HK MP5SD chambered .22 Long Rifle, and is built with a match grade precision barrel, metal receiver, and retractable stock. The sound dampener (SD) is actually a compensator. It is attached to conceal the 16.1 inch barrel that extends the full length of the gun and compensator. The MP5′s magazine was very easy to load thanks to the dual grip that was made for holding the spring while loading. It is made from high-strength polymer, and comes in 25- and 10-round versions of the magazine.
Operation
The .22 caliber Walther HK MP5 SD operates off of a blowback system. After the magazine is empties the bolt will remain open. The front sight is adjustable for elevation and comes with interchangeable posts. The rear sight is also adjustable for windage and elevation.
On the range
When we got to the range, I was like a little girl that was told she was getting a pony for her birthday! The Walther HK MP5 SD was so easy to use and a pleasure to shoot. The recoil on the gun minimal, also it was light weight so that made it easy to shoot from the standing position. The magazine was well designed, it truly was easy to load because of the design. I cant wait to take it back out to the range!
Specifications
Caliber: .22 L.R.
Capacity: 10 or 25 rds
Mode of Fire: Semi-Auto
Barrel Length: 16.2 in (412 mm)
Barrel Twist: 1 in 13-3/4 in
Rifling Grooves: 6
Rifling Length: 13.78 in (350 mm)
Front Sight: Interchangeable Posts
Rear Sight: Adjustable – Windage & Elevation
Overall Length: 26.5–32.5 in (675-825 mm)
Overall Height w/Mag:10.6 in (270 mm)
Overall Width: 2.2 in (55 mm)
Stock Style: Single Point Adjustable Telestock
Trigger Type: Single-stage
Trigger Pull: 6.6-8.8 lbs
Safety Type: Manual
Principal of Operation: Blowback
Muzzle Thread: M8x.75
Length of Pull: 6.5 – 12.375 in
Sight Radius: 13.2 in (335 mm)
Diameter Rear Sight Aperture: .24 / .13 / 0.11 / 0.1 in F
ront Sight Width: .07 in (1.8 mm)
Weight w/out Mag: 7.45 lbs (3400 g)
Weight of empty Mag-25: 2.5 oz (70 g)
Features: Metal Receiver Compensator
Be nice to your range officer
I have worked at a shooting range for a number of years. We get people from all walks of life. Some of the people who come in scare the living daylight out of me, and some are welcoming and sweet. On my lucky days,I would have a cool shooter come in that would actually teach me something new. But, on my "not so lucky days", I'd have shooters, who would come in with terrible aim, and even worse attitudes. Having these combinations of people come in and out has left me with a lot of good and bad stories.
It was mid-July and it has to be at least a hundred degrees. We just got the after lunch rush and I felt like I was melting. I barely got to eat lunch myself. There were at least fifteen people waiting to get on the line and the heat was making everyone a little cranky. Myself and one other range officer were in charge of running three bays. Every lane had at least one shooter and things were getting pretty chaotic. That day had me at the max on my "stress odometer." On days like this one, I wouldn't recommend talking smack about any R.O., and definitely not to a regular customer. One of the great things about building a relationship with the regulars that come in is knowing that they'll have your back. On days like this one, this came in handy. Some rude guy decided to talk crap about me saying that I didn't know what I was doing, and had no business being a range officer. Normally this wouldn't bother me, but, due to the heart that was cooking everyone alive, I had no patience with this guy. I didn't sugar coat any of my impatience when I told him, "I am not going to kick someone off because you think you're special." This guy got so mad! As far as I was concerned, it wasn't my fault that he decided to come shoot at the same time as everyone else.
After storming off, one of my regulars informed me that this gentlemen was saying rude things about me behind my back. Yes, I am a girl, but no, that does not make me any less knowledgeable about guns, or less capable to run my line. To teach this guy a lesson, I decided to act exactly like the "ignorant girl" he thought I was. "Silly me" forgot how much AR-15′s throw cartridges, almost right at the person next to them, and when it was finally time to get our new favorite person on the line, guess where I put him. That's right! I put him at the very end, in the tactical bay. All the brass was attracted to him, it must have been karma. Ironically this guy had a big mouth, and a little gun. Let's just say once he got on the line, he didn't shoot for very long.
The moral of this story is: Don't talk crap about your R.O.'s, especially if it's a female that knows what she is doing.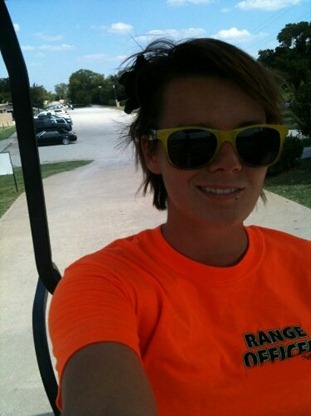 "Bunny"
Glock 30S
GLOCK has a new model, the G30S (Slim), originally designed for an elite law enforcement unit and a great firearm for concealed carry. The GLOCK Engineers took the slender GLOCK 36 in .45 AUTO and paired it with parts from the big-bore GLOCK 30 SF. The GLOCK 30S has a 10+1 capacity magazine and can also except the GLOCK 21 magazine that holds 13 rounds.
After examining the G30S I was not disappointed, it has the external qualities from GLOCK you have grown accustom to; the paradigm-setting polymer receiver, The GLOCK SAFE ACTION fire control system, allowing the shooter to use three independent automatic safeties fast; a super-hard, corrosion-resistant, low-reflective external finish on the slide, barrel and GLOCK night sights; and the GLOCK standard cold-hammer-forged barrel with octagonal rifling for the .45 AUTO cartridge. When I was walking up to the table the G30S appears identical to a GLOCK 30, but when I reached the booth I noticed the G30S slide was actually thinner then the G30′s.
When I picked up the GLOCK 30S it fit comfortably in my hand, you can feel the Short frame/Gen4 frame design immediately.
Atticus with his larger hands still said it was comfortable in his hands. Over all I really liked the gun and would use it for my own personal carry.
-Bunny